Instacart Product Manager
Interview DifficultymoderateRounds3-4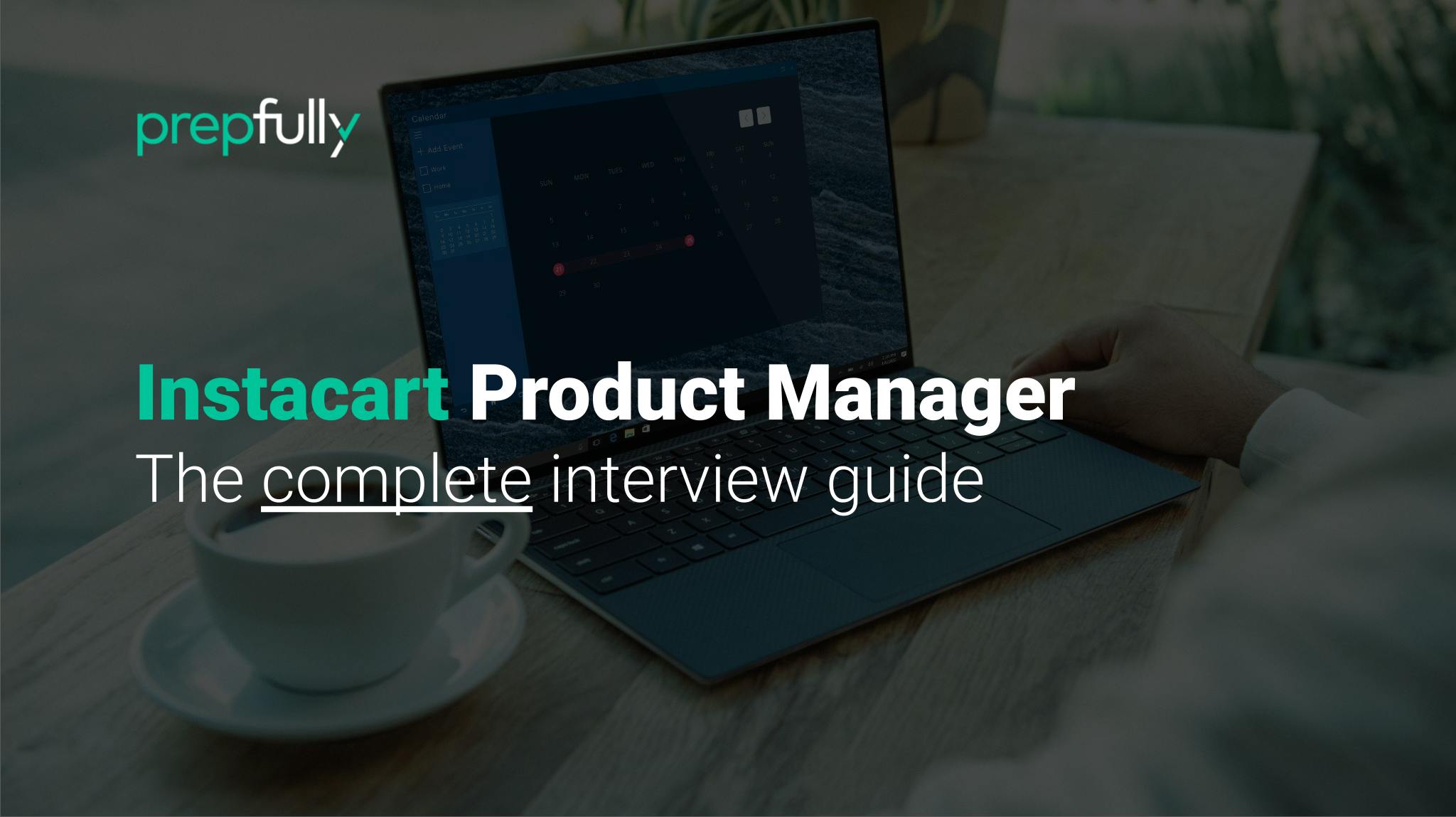 The role of an Instacart Product Manager
Product management is an organizational role that directs every stage of a product's lifetime, from development to positioning and price, by focusing first and foremost on the product and its users. Product managers advocate for customers within the organization and ensure that the market's voice is heard and heeded to create the greatest product possible.
Instacart's motto is to return their customers' valuable time so they can spend it doing the things they enjoy with the people they enjoy. Every second counts.
A PM at Instacart works on a cross-functional team and is in charge of the Instacart services that the clients utilize. Their marketplace services densely populated areas in the United States, but not all of them. They create a consumer product that engages customers in markets where their existing delivery product is not now accessible and may not be available in the future two years. 
The interview process starts like any other interview, with the application. Once you have applied for the role of product manager, the following steps will take place:
Phone call with a recruiter
Telephonic interview with a hiring manager
Challenge
Onsite interview
The current pandemic situation may replace onsite interviews with Skype interviews if visiting the site is not feasible.
The application process for the post of a product manager is the same as it is for any other job. You can apply using LinkedIn or the Instacart Careers page.
Check to see that all of your documents are up to date.
If your resume and cover letter are approved for further consideration, a recruiter will contact you within a week.
Overview
The first part of the procedure is a phone call with a recruiter. This is a pretty informal conversation about your behavior and previous experiences. The recruiter wants to make sure you're qualified for the job you've applied for. The call will last no more than 30 minutes.
What the interviewer will assess
Your capability of handling this role
Your dedication towards product management
Your past experiences in the field
Your understanding and research about the firm and its working
Tips
This is your time to discuss all your doubts and questions about the firm.
Make sure to sound inclined towards working and proving to be an asset to the firm.
To convey that you are, without a doubt a suitable candidate, try to incorporate your accomplishments and significant projects into the discussion.
Research and study all their products and think about how you would improve them. Make a brief document outlining your concept for this product. Why should the company create this product, and what high-level characteristics does it include? What does its success seem like? Explain your vision and how you intend to carry it out.
Interview Questions
How would you describe yourself in five words?
How can you prove to be an asset to our team?
Have you worked with cross-functional teams before?
How do you work under pressure?
Tell me one of your significant past projects?
Do you believe you can lead a team if given the chance to?
What was your last job role and what was expected from you?
What are you most proud of?
How will you motivate your colleagues to work harder?
Overview
Following the initial interview, a second telephonic interview is conducted. This interview will be with a recruiting manager and will focus on your experience as well as whether or not you meet the qualifications for a final on-site interview. Here are a few things to remember:
A variety of situational and behavioral questions are likely.
The interview will last 45-60 minutes.
Some technical and analytical questions may be posed as well.
What the interviewer will assess
How revolutionary your ideas are
Yout time management and analytical skills
Your leadership skills
How well can you manage a team
Tips
Try to describe what you wrote on your resume using examples and details. Failure to do so will lead to the interviewer being skeptical. Use real-life examples to respond to situational queries.
There's a good chance the interviewer may ask about anything related to Instacart or its competitors' most recent items, and you'll be asked for your thoughts. As a result, doing some preparatory study and preparing a few topics ahead of time, just before the interview, should be beneficial.
Interview Questions
Describe a research project you worked on and the influence it had on the organization.
What steps do you take to boost team morale?
How do you handle goal-setting in your group?
Can you openly share your faults and provide examples of what you've learned from them?
Do you have any expertise in evaluating and modifying company software?
List a time when you displayed a product vision and include the organization's goals in the product plan.
Are you well-balanced in a cross-functional setting?
The next stage in the Instacart interview process is a challenge in which you must present projects such as a requirements document, a timeline, status updates, a communications plan, and other documents. Project artifacts for this type of challenge might be subjective and personalized to the organization, project, and audience. After submitting the project, you may receive a response within a week.  A question is given below for your reference:
Create a product that will help an obese patient's health. Examine the problem, the solution, the product design, the product development, the product launch, and the product rollout strategy. Because there is a $50,000 budget, include a research allocation plan and put yourself on the team.
Overview
The final interview is a series of in-person interviews with the department head, recruiters, and current product managers. Depending on the interviewers, these rounds could last anywhere from 30-45 minutes. Throughout the interview, you will be asked hypothetical questions and assessed on your technical skills and previous job experiences. PM fundamentals such as product knowledge, analytical ability, and strategy questions will be asked, as well as a slew of technical questions.
What the interviewer will assess
Calculation of growth metrics for e-commerce.
Ability to recognize possible risks and quantify them.
Numerical and verbal reasoning.
Corporate ease.
Ability to handle a team and keep everyone motivated.
Core knowledge about the role.
Tips
The secret to success in these interviews is to be calm, comfortable, and confident. You may, however, prepare for some areas of this interview. Create a narrative bank of experiences that you may use in interviews, for example.
Product design questions will typically lead you to construct a product in an open-ended setting and explore appropriate solutions, focusing on your understanding of quantitative reasoning around metrics.
Prepare to dig deeper into questions that test you. The interviewer will not be satisfied with a vague response and will expect you to demonstrate your proficiency in the topic.
Interview Questions
How do you keep the consumer in mind while developing a new product?
How would you boost client engagement on the website of Instacart?
How can Instacart enhance its profit margins?
Discuss some of the qualities you believe make you a better product manager than the other applicants.
What technology stack was used by your prior company?
Do you recognize who our competitors are?
How do you get back to customers who did not have a good experience?
When would you launch a price promotion?
Assume a competition has emerged and is stealing customers. What would you do to find out why this change occurred?
How would you improve the functionality tenfold over what it is now?
How can you depict the evolution of a product through time?
How would you compute the number of sofas sold in the United States?
What does a normal day at your current workplace look like?
What would you do differently if you had to start over at your previous job?
What kinds of things do you believe we can create or expand on if we create a software to monitor internal visibility?