One of the key responsibilities of a Product Manager is to prioritize — deciding which requests/features/product ideas require immediate attention, which deadlines take precedence,  whether it is input from engineers, stakeholders, or analysts that needs to be addressed first, and so on. The end goal is to eradicate wasteful practices, and determine the quickest route to delivering customer value by adopting a disciplined approach towards prioritization. 
Given the wide range of constraints product managers are faced with on a day-to-day basis, it is important to determine that someone in the position is able to develop an objective process to identify what different teams should be directing their efforts on. 
So, if you have a product management interview coming up, you can be sure that your interviewers will ask you a series of prioritization questions to get insight into your prioritization framework.
How do you prioritize product features? How do you decide what to build next? How do you measure the success of a product launch?
In this article, we'll familiarize you with some highly-effective, goal-first prioritization frameworks so you can tackle prioritization questions in product management interviews with ease. So let's dive right in!
How to Answer Prioritization Questions in Product Management Interviews? 
There are plenty of ways to address prioritization questions in product management interviews. Product managers deal with a bunch of unprioritized features, and have disparate opinions from customers, engineering and sales teams, stakeholders, executives to consider. It can be daunting to objectively examine any data when you are being pulled in so many directions.
Your aim should be to demonstrate that you have a methodical and measurable approach to solving prioritization concerns in the workplace.
1. Begin with understanding the goal
To tone down the subjectivity, it makes sense to rely on a goal-first approach to review the product data you have access to. This will provide you a clear understanding of the features or releases to prioritize, and help build a verifiable process that your team can adhere to. 
Ask yourself: 
Does this particular feature/idea align with the product vision?
Are there any broader set of goals that the company is aiming at and does the feature or release put you on track to achieve them?
Consider what works best in the current stage in the product life cycle. Don't hesitate to ask your interviewers any questions to get clarity of their vision and see if you are hitting the right themes.
For instance, let's assume the question is: "Facebook has just launched Events. How would you design and measure a roadmap for its success in the next year?"
Here, you could ask them whether the end-goal is to drive customer satisfaction or user acquisition. It would give you clarity on which prioritization framework to use to tackle the proposed situation. It would also give the impression that you are cognizant of broader goals or initiatives having a crucial role in prioritization. 
Over the course of their careers, successful PMs repeatedly test different prioritization frameworks in different scenarios to determine what works for them. 
Most often that not, it is the potential of a feature or release to drive growth for a company that dictates the course of business operations. The other crucial criteria is to be user-focused so that end-users are satisfied with your products. You also need to take into account the effort that will go into designing, engineering, and marketing the product. 
Based on these criteria, here's discussing some popular prioritization frameworks that help PMs cut through the technical squabble in product management:
MoSCoW Prioritization Technique
The MoSCoW Prioritization Technique (also known as MoSCoW Analysis) is most suitable for an Agile Product Management environment when exchanging product details with stakeholders. The name is derived from four prioritization categories which are:
Must have — Features that are essential in your product launch.
Should have — Features that should be included in your product, given their potential value.
Could have — Customer requirements that you can consider including in your product, if they are impactful.  
Won't have — Product ideas or features that can be included down the line but won't make it to the current release.
MoSCoW takes into account inputs from both customers and stakeholders, and helps PMs manage expectations comprehensively. So, it's a rather simple technique to adopt if you need to communIcate with non-technical teams frequently. 
RICE Scoring Prioritization Method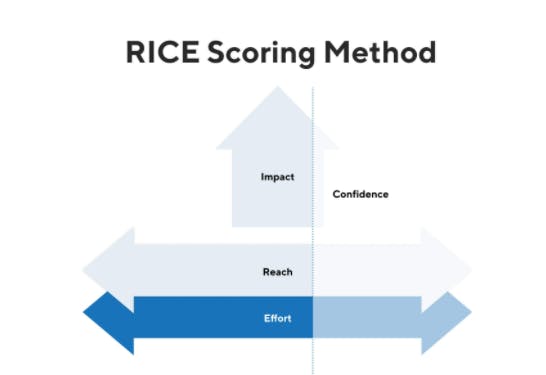 This technique is scoring-based and takes into account Reach, Impact, Confidence, and Effort to determine priority in product management:
Reach — This is to assess the reach of a certain release over a measured period of time. For example, the number of users that will be affected by it per year. 
Impact — This is to evaluate the kind of impact a feature will drive, considering your goal. Will it result in reduced cart abandonment rates? Will it delight customers? 
Confidence — This is in case you don't have enough evidence or scientific data to back a feature's importance. So, you take a gut-based decision, thereby assigning a higher priority score to a certain release.
Effort — This is to take into account the effort each team or member (designers, analysts, engineers) will have to put in to accomplish a high-impact release. 
The RICE scoring system is a qualitative approach to prioritizing product features. 
Kano Model
The Kano model should be your prioritization framework of choice if you are looking for customer-centric outcomes.
Basically, your efforts are directed towards shortlisting features that bring about customer satisfaction. This includes factoring the following scores: 
Basics: These features constitute the minimum requirements that will address customer's problems.
Exciters or delighters: These are the features that cement your position in the market and distinguish you from your competitors. These include the high-end expectations of customers, or the attractive or low-level attributes of a product. 
Performance features: Customer satisfaction here is proportional to the investment in the performance features of a product. For example, boosting the storage capacity of an app.
The Kano Prioritization Model can be time-taking given that there are plenty of customer insights to gather. 
3. Provide your inputs
Once you tactically explain your prioritization framework, take your interviewer through the various inputs you would consider to assign scores to each criteria. 
Do you conduct regular meetings to analyze the needs of cross-functional teams and ensure they are taken care of? Do you track stockholders' opinions, take into account customer feedback, and suggestions from product teams? Do you regularly communicate with upper management and have a clear picture of the themes or goals your company is concentrating on?
Consider incorporating quantifiable metrics to analyse user impact, and business value. It helps PMs choose a priority easily, and allows them to launch a feature or product that brings a company closer to their goals.
Factor in trade offs, if any, and perform sanity checks at every stage to explain your decisions adequately. 
That is how you will convince your interviewer that you qualitatively assess different criteria for a product release, and have a methodical technique to prioritize product ideas. 
Conclusion
Hopefully, you now have an idea of how to answer prioritization questions in product management interviews. Regardless of which prioritization frameworks you choose to answer prioritization questions, make sure to back them up with relevant examples and data. 
Let us know if we can help with anything else!